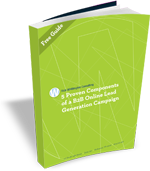 CMOs and business owners are looking harder than ever at how their website can, and should, be working for them. But, converting a website from what has typically been an online brochure "check off" item into a lead generation machine can seem daunting.
This 19-page eBook contains learnings from over 5 years of experience creating lead-generating machines, and will show you in detail the steps you can take to improve the number of leads you get from your B2B website.
You'll learn:
How to start planning and being intentional about lead generation
Attract more qualified prospects to your website
Make small changes that will improve success rates
The role of marketing analytics in improving your website
Download this free eBook by filling out the form to the right.